Exposure Mode Quick Guide for Your Nikon 1 J1/V1 Camera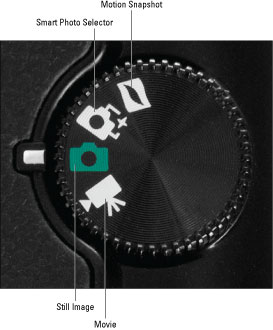 Your Nikon 1 offers the following exposure modes, which you select via the Mode dial on the back of the camera. For Still Image mode, you can select from five settings, each of which offers a different level of control over picture-taking options.
Still Image: Choose this mode for normal, still photography. Then display the Shooting menu, select Exposure Mode, and choose from these Still Image modes:
Movie: Select this mode to record movies and gain access to recording options on the Shooting menu.
Smart Photo Selector: A special still-photography mode; the camera captures approximately 20 images and then selects the five best for your review.
Motion Snapshot: Records a brief movie clip followed by a still photograph, using one of four music tracks as an audio background.