Exploring Advanced Exposure Modes on a Canon EOS Rebel T3 Series Camera
To fully exploit your Canon Rebel T3 or T3i's capabilities, you need to explore your camera's five advanced exposure modes, represented on the Mode dial by the letters P, Tv, Av, M, and A-DEP.
Using these five modes lets you manipulate two critical exposure controls, aperture and shutter speed. That's not a huge deal in terms of exposure; the camera typically gets that part of the picture right in the fully automatic modes. But changing the aperture setting also affects the distance over which focus is maintained (depth of field), and shutter speed determines whether movement of the subject or camera creates blur. Having input over these two settings provides you with a whole range of creative options that you don't enjoy in the fully automatic modes.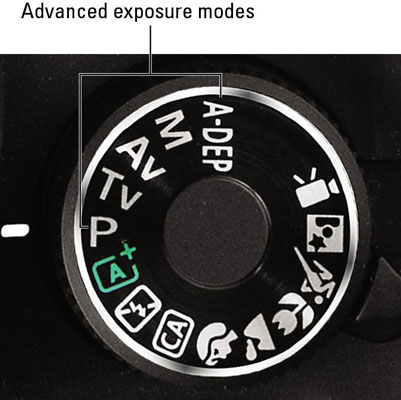 Each of the five advanced modes offers a different level of control over aperture and shutter speed, as follows: