Cheat Sheet
Excel 2007 Dashboards & Reports For Dummies
The new tricks and tools in Excel 2007 include dashboards that you can engage and add to your worksheets. Although Excel reports aren't exactly new to the 2007 edition, some of the designs and features are, as are some Web sites that explore and expand upon the available options.
Dashboard Icons for Excel 2007
Excel 2007's dashboards and reports offer some new conditional formatting rules that allow you to add icons to your dashboards. With Excel 2007 icons, you can represent and distinguish values from one another by using different shapes and colors. The following table shows the Icon Sets that come with Excel 2007.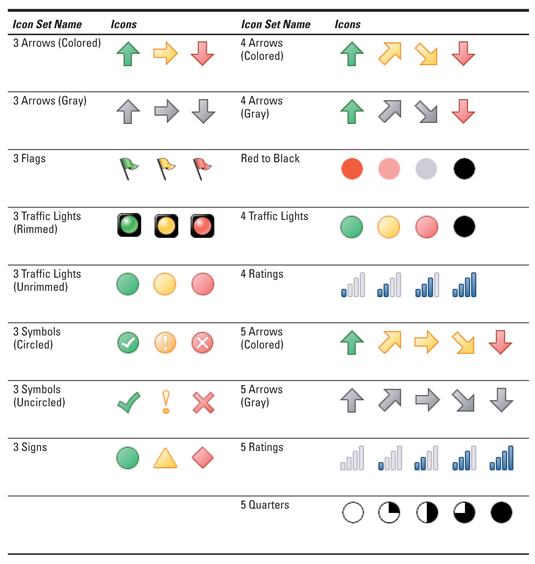 If you're working in an environment where not everyone has Excel 2007, definitely avoid using Excel 2007's Icon Set conditional formatting. Why? Icon sets aren't backwards compatible, so anyone who doesn't have Excel 2007 can't use them.
How to Substitute for Icon Sets with Excel 2007
A creative alternative to using the icon sets offered with conditional formatting in Excel 2007's dashboards is to use the various symbol fonts that come with Office. The symbol fonts are Wingdings, Wingdings2, Wingdings3, and Webdings. Each character/font combination shown in the following table displays an icon that can be used to represent a value in your dashboard.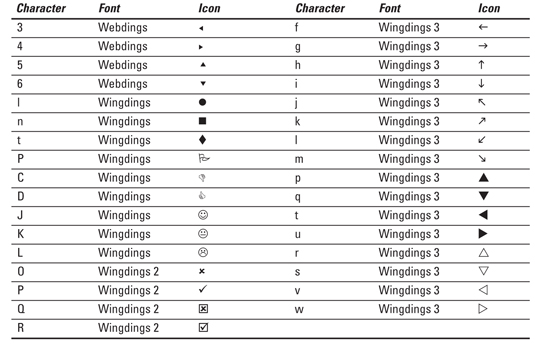 Helpful Web Sites for Excel 2007 Reports
The dashboards and reports of Excel 2007 offer a wide range of Excel tools, and it's always nice to see the approach others take to design their reporting mechanisms. The following Web sites (in no particular order) are dedicated to business intelligence and the presentation of data through dashboards. You can use these sites to get ideas and fresh new perspectives on dashboards and reports.