Essentials: Use Social Media Strategically with Cause Marketing
Telling you that you should use social media with cause marketing is a little like Moses coming down from Mount Sinai and telling people he just got the Ten Commandments from The Almighty. You just have to take it on trust on this one.
Companies and causes are awakening to the value of social media, the connection you can make with customers and donors, and how that connection can deepen an experience and a relationship.
If your business or cause is active on social networks, congratulations! Keep up the good work and don't rest on your laurels. The field is changing quickly.
If you haven't begun using social networks, you need to get busy. Many offline and online resources can get you up to speed on how to use social networks. But remember, the best way to learn how to blog, tweet, use Facebook, or check-in on Foursquare is to use these services yourself! Don't talk and don't just read. Do!
Commit yourself to using social networks for a week and you'll learn more about how to use them than you would ever have learned in a book about how to use social networks.
One resource you can use is the daily Smartbrief on Social Media, which you can sign up for at Smartbrief.com/Socialmedia. Smartbrief gives a great summary of the top articles on social media trends and best practices.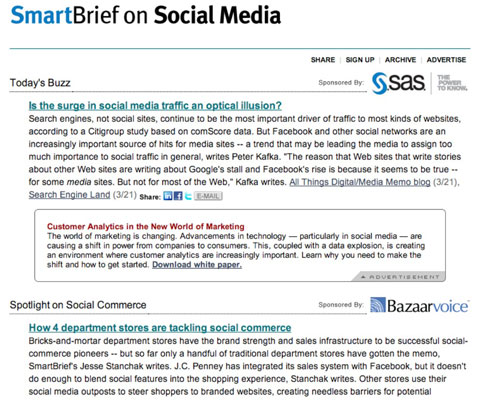 Following the changes in social media can make you dizzy! Subscribing to Smartbrief on Social Media will help you get your bearings.