Entering Friend, Family, and Relationship Information in Your Timeline
The Facebook Timeline has an At-A-Glance box that lets you edit and enter information about your friends and family. This box provides space for you to list your romantic and family relationships. Additionally, these relationships provide a way of linking your timeline to someone else's timeline, and therefore require confirmation. In other words, if you list yourself as married, your spouse needs to confirm that fact before it appears on both timelines.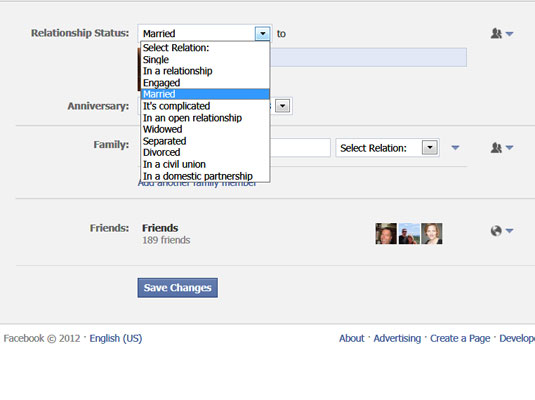 You can add a relationship by following these steps:
Click the Edit button in the upper-right corner of the Relationships and Family box.

This opens a pop-up window for editing this information.

Click Add a Family Member.

This adds a blank box to the list of any existing Family Members.

Start typing your family member's name into the box

Facebook tries to auto-complete as you type. When you see your sister's or husband's or whoever's name appear, click to select it.

Select the type of relationship from the drop-down menu.

Facebook offers a variety of family relationships ranging from the nuclear to the extended.

Click Save at the bottom of the pop-up window.
For many couples, the act of changing from Single to In a Relationship on Facebook is a major relationship milestone. There's even a term for it: Facebook official. You may overhear someone saying, "It's official."
From the At-A-Glance box, a smaller box labeled Friends displays tiny previews of a few of your friends' profile pictures. Clicking this box brings you to the Friends section of your timeline, which displays all of your friends in a giant grid. When you're visiting your friend's timeline, this can be a good place to go to find mutual friends that you'd like to add.
You don't have to share this personal information with everyone. You have five basic privacy options to remember:
Public or Everyone: This means that anyone who finds your timeline, potentially anywhere on the Internet, can see this piece of information. This is a good setting for the things that are not very personal or are already public knowledge.

Friends: This means that only your friends can see that piece of information. This setting is useful for more personal things like your contact information.

Friends Except Acquaintances: This option refers to the "acquaintances" smart list that Facebook creates for many users. People who have been added to this list will be unable to see this information.

Only Me: This option allows you to keep information on your profile for your own reference, but not show it to anyone else on Facebook.

Custom: You can use custom settings to show items to specific groups of people. You can choose a setting like Friends of Friends if you want something to be visible to more than just friends, but not to the public; or you can even choose to show something only to specific friends, or to hide it from specific friends.
All information fields in the About section are optional to fill out. If something doesn't apply to you, or you don't want to share that information, just leave it blank.