Electronics: How to Use Software to Practice with Gates
If you really want to learn how logic gates work, one of the best ways is to download one of the many software logic gate simulators that are available free on the Internet. You can find these programs by firing up Google and searching for keywords such as "logic gate simulator."
A great option is Logic Circuit Designer, written by Ivan Andrei.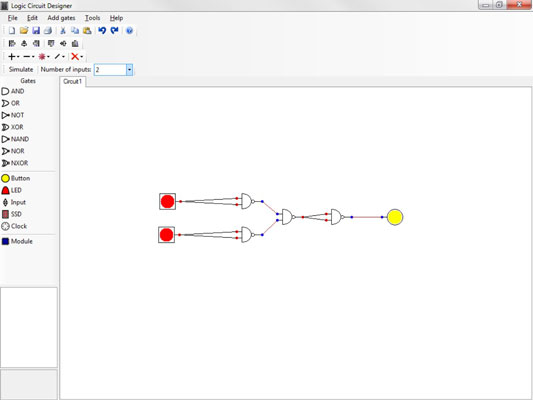 Use the Logic Circuit Designer program to simulate logic circuits on your computer.
Here are just a few of the features of the Logic Circuit Designer program:
You can add AND, OR, NOT, XOR, NAND, NOR, and NXOR gates to your circuit simply by dragging them from a toolbar.

You can connect the gate inputs and outputs by clicking an input or output and then dragging it to another gate input or output.

You can add simple switches to the circuit for external inputs.

You can add LEDs at any point in the circuit to indicate the status of an output or an input.