Efficient Home Recording Studio Setup
One important thing to keep in mind is that you need to be comfortable in your home recording studio. Get a good chair and set up your workstation to be as easy to get around as possible. The first illustration shows a classic L setup. Notice how everything that you need is within arm's reach. If you have enough room, you may want to consider a U-shaped setup instead, which is shown in the second illustration.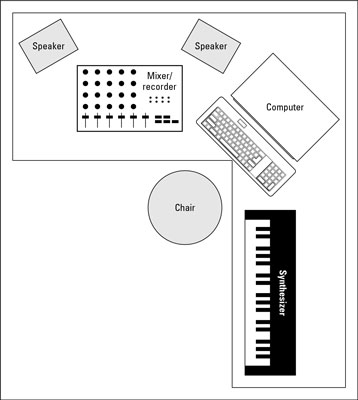 A classic L setup: Everything is easy to reach.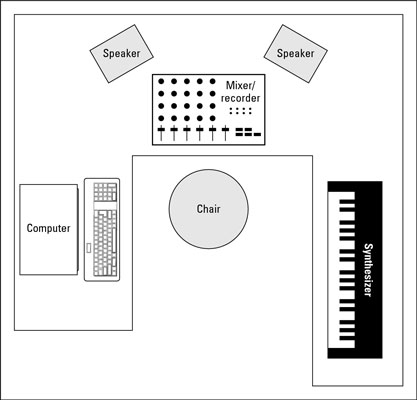 The U-shaped setup can work great if you have the room for it.
If you use a lot of outboard gear — such as preamps or effects processors — and you think that you need to plug and unplug a lot, invest in a good patch bay so that you don't have to strain to access the cords that are tucked away behind your mixer.
A patch bay is a device that has a bunch of inputs and outputs that allows you to route your gear in (and out) in an almost infinite variety of ways. If you do much plugging and unplugging, you'll quickly find out that a patch bay is an indispensable item. It can save your back — and your cords (repeated plugging and unplugging wears them out quickly and produces buzzes that can be hard to locate).

A patch bay lets you plug and unplug gear without having to crawl behind each piece of gear.