Edit Vector Images for WordPress Websites
Vector images are perfect for creating illustrations, cartoons, and logos for WordPress websites. Vector images can be built from several elements, each on its own layer, and easily resized when needed. Vector-based editing software lets you create quality vector graphics and illustrations that can then be saved in raster format for web use.
Two of the most popular vector-based editing programs are Illustrator and CorelDRAW. Whether you create vector files from scratch or edit/manipulate existing vector files, you need to have a vector-based editing program to take full advantage of all the editing tools and features.
Vector image files often have several layers that contain complex and extensive design elements that add to the overall image. Programs like Photoshop or PaintShop Photo Pro don't allow you to expand the layers available in a vector image.
Adobe Illustrator
Illustrator is a vector-image creation and editing program available as a standalone product, or as part of Adobe's Creative Suite 5.
With Illustrator, you can open an existing vector file and manipulate it easily by discovering the layers embedded in it, such as this illustration of a suitcase.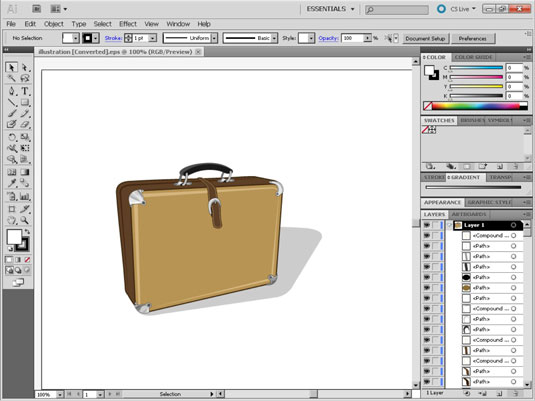 Open the same file in Photoshop, and the different layers aren't available because Photoshop flattens the image. Illustrator leaves the different layers intact for editing and manipulation.
The file types that you most commonly work with and come across for Illustrator are AI and EPS. These are vector image files that you can easily open and edit in Illustrator.
If you're interested in finding out more about how to use Illustrator for your design needs, check out any of these handy online resources.
Illustrator Online Resources

| Resource Name | Description |
| --- | --- |
| n.design Studio | Illustrator tutorials from the talented designers at n.design Studio |
| Vectortuts+ | A site filled with tutorials, tips, and tricks |
CorelDRAW
CorelDRAW is a vector-based editing software program available as part of the CorelDRAW Graphics Suite X5. CorelDRAW is currently available only for Windows.
Like Illustrator, CorelDRAW lets you create and edit vector-based images by manipulating the available layers embedded within the vector image file. In this illustration of a suitcase, you can see that CorelDRAW makes the different layers available for manipulating and editing.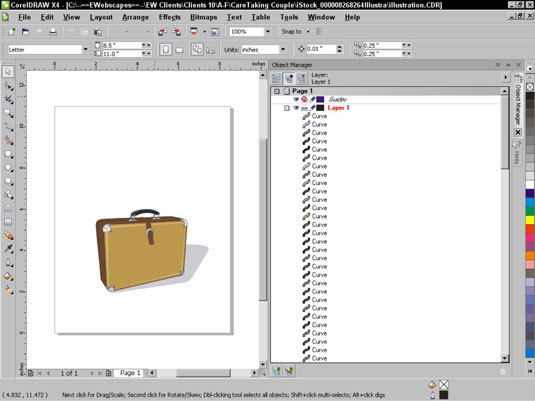 Within the program, click the layer or curve to select what you need to edit and make it active on your editing screen, allowing you to apply different effects and edit it to your liking.
You can easily open regular vector image file formats, such as AI and EPS, as well as the Corel-specific vector format, CDR. Here are a few helpful online resources for you to use to find out more about using CorelDRAW.