eBay Charity Auctions
A charity auction is a high-profile fund-raising auction run by eBay Giving Works where the proceeds go to a selected charity. Charity auctions are run like most other auctions on eBay, but because they're immensely popular, bidding can be fierce, and the dollar amounts can go sky high.
In November 2003, eBay launched the eBay Giving Works Charity auction area. Smartly, the folks on eBay teamed up with one of the finest charity sites on the Internet, MissionFish, a service of the Points of Light Foundation that has been around since early 2000 and has enabled charities to raise hundreds of thousands of dollars by turning in-kind donations into cash. The eBay community has helped raise close to $200 million so far.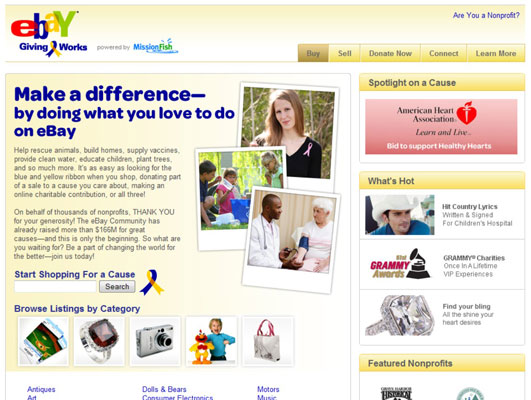 Where eBay buyers and sellers work for good.
If you're involved with a charity, you can register your charity to get on the list of beneficiaries. You can also run your own fundraising events on eBay! Just click the Giving Works link on the left side of the eBay home page, and you'll arrive at the Giving Works hub.
You don't have to go to the Giving Works hub to view charity auctions; they appear in search results just like any other auctions.
The best part about this new system is that you can run an auction to benefit your favorite charity. eBay sellers can list items for sale and designate those items to benefit a charity from the MissionFish directory of thousands of charities. The seller can also specify what percentage (from 10% up to 100%) of the auction proceeds go to the charity. At the end of the sale, MissionFish e-mails a tax receipt to the seller. You can browse to select the charity of your choice on the Giving Works page. When you list your item for sale, you can indicate on the Sell form's Create Your Listing section which charity, and what percentage of the final sale price, you'd like to donate proceeds.