Diagnose Picture-Quality Problems with Your Nikon D5200
Almost every review of the Nikon D5200 contains glowing reports about the camera's picture quality. As you've no doubt discovered, those claims are true: This baby can create large, beautiful images.
That said, you may encounter some picture-quality problems. (The term picture quality here is not referring to composition, exposure, or other traditional characteristics of a photograph. Instead, it refers to how finely the image is rendered in the digital sense.)
This figure illustrates the concept: The first example is a high-quality image, with clear details and smooth color transitions. The other examples show five common digital-image defects.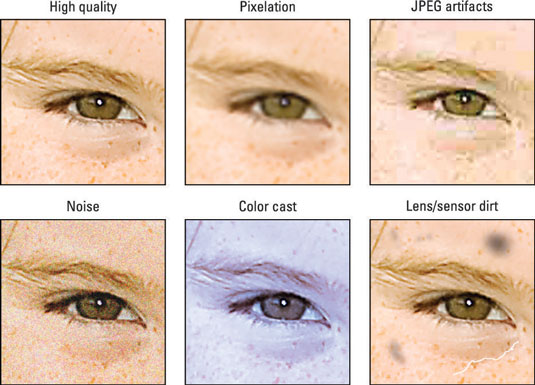 Each of these defects is related to a different issue, and only one is affected by the Image Quality setting. So if you aren't happy with your image quality, first compare your photos to those in the figure to properly diagnose the problem. Then try these remedies:
When diagnosing image problems, you may want to open the photos in Nikon ViewNX 2, the free photo software that ships with the camera, or some other photo program and zoom in for a close-up inspection. Some defects, especially pixelation and JPEG artifacts, have a similar appearance until you see them at a magnified view.
With the exception of an unwanted color cast or a big blob of lens or sensor dirt, these defects may not even be noticeable unless you print or view your image at a very large size. And the subject matter of your image may camouflage some flaws; most people probably wouldn't detect a little JPEG artifacting in a photograph of a densely wooded forest, for example.