Develop Your Business Systems and Procedures
In order to put your business plan to work, you must know how your business will operate on a day-to-day basis. Your knowledge leads to the development of systems and procedures for everything from product development to sales and customer service. Good systems keep your company out of hot water and often mean the difference between business success and failure.
A rational set of procedures and well-defined systems ensure efficiency, quality control, employee productivity, and customer satisfaction. And, in the end, they protect your bottom line.
You don't have to reinvent the wheel to install systems and procedures. Consider these steps:
Inquire with industry groups about standard operating procedures or basic business systems that may be well-documented.

Read trade publications and investigate third-party providers who may offer software or other packaged solutions that meet your operational requirements.

Talk with people who run companies similar to yours outside your direct competitive arena. They likely have time-tested sets of procedures they can discuss with you.

Hire managers with experience in businesses like yours. With these old hands comes expertise with procedures and systems that you can replicate to build an efficient operation and reliable quality control.
As you build your systems and procedures, look back over the company description, strategy, and action-plan sections of your business plan. Jot down all the systems and procedures you think you need to get the job done.
To make sure that you don't leave anything out, the form shown in the figure lists the business systems and procedures common to most businesses, along with slots for you to fill in procedures specific to your company.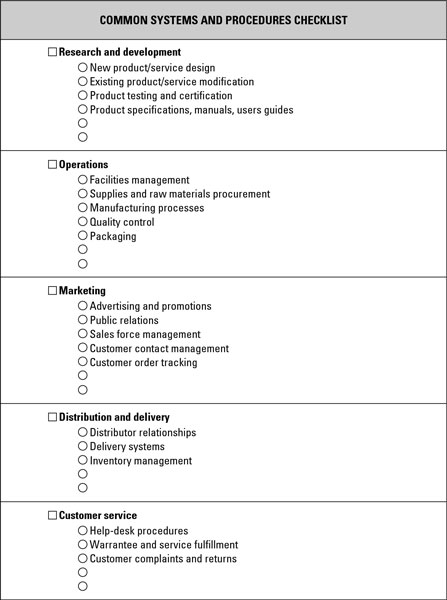 You may not need to address every item on the form, but it's worth looking all of them over to see which ones are relevant. After you go through the checklist, circle the two or three procedures most critical to your business strategy and plan. Break each down into a series of steps in an effort to identify potential gaps before they cause problems.
Even small businesses and sole proprietorships need to have systems in place for tracking customers, monitoring workflow, and keeping those invoices moving along. Take the time to write out your operations and procedures, because it will help you identify any gaps and ensure that you don't spend more time than you need on the business of doing business.