Creating a Front Page for Your WordPress Website
For the most part, when you visit a blog powered by WordPress, the blog appears on the main page. But you can create a front page that contains no blog and displays no blog posts. The typical set up shows your latest blog posts on the front page, along with links to the post archives (by month or or by category).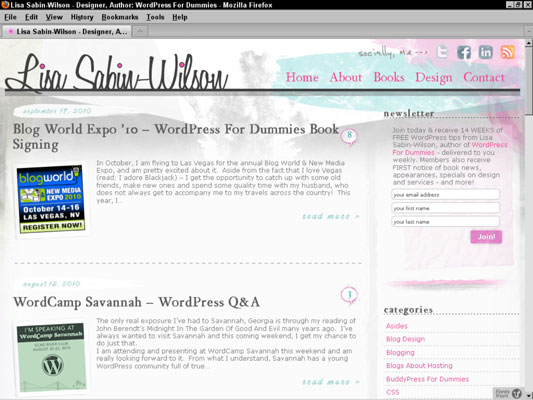 A typical site powered by WordPress
Contrast this with a front page that displays the contents of a static page that you create in the WordPress Dashboard. This static page can serve as a portal to a business blog, a portfolio, and other sections of your site. In other words you can build a WordPress site that includes a blog, but also serves as a full-blown business website.
A WordPress site, set up as a business website, rather than a blog
Both types of sites are powered by the self-hosted version of WordPress.org, so how can they differ so much in what they display on the front page? The answer lies in the templates in the WordPress Dashboard.
Pages, in WordPress, are different from posts because they don't get archived the way your blog posts/articles do: They aren't categorized or tagged, don't appear in your listing of recent blog posts or date archives, and aren't syndicated in the RSS feeds available on your site — because content within pages generally doesn't change. Pages are considered static or stand-alone content and exist separately from the archived post content on your site.
With the page feature, you can create an unlimited amount of static pages separate from your blog posts. People commonly use this feature to create About Me or Contact Me pages, among other things. You use static pages in WordPress to create content that you don't want to appear as part of your blog but do want to appear as part of your overall site (such as a bio page, a page of services, and so on).
Creating a front page is a three-step process: Create a static page, designate that static page as the front page of your site, and tweak the page to look like a website, rather than a blog.
By using this method, you can create unlimited numbers of static pages to build an entire website. You don't even need to have a blog.