Create the Perfect Title for Your eBay Item
After you choose a category for the item you want to sell on eBay, your next task is to think up an absolutely ingenious title that will make it stand out from the competition and grab the attention, and eventually the dollars, of eBay buyers.
The most valuable real estate on eBay is the 55-character title of your item. The majority of buyers do title searches, and that's where your item must come up to be sold! So the onus is on you to give the most essential information right away to grab the eye of the reader who's just browsing. Be clear and informative enough to get noticed by eBay's search engine.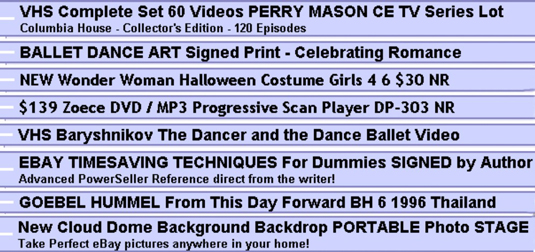 These item titles are effective because they're clear, concise, and easy on the eyes. Note how some sellers beefed up the titles by using the Subtitle option.
Here are some ideas to help you write your item title:
Use the most common name for the item.

If the item is rare or hard to find, mention that.

Mention the item's condition and whether it's new or used.

Mention the item's special qualities, such as its style, model, or edition.

Avoid fancy punctuation or unusual characters, such as $, hyphens, and L@@K (or WOW), because they just clutter up the title — buyers rarely search for them.
Don't put any HTML tags in your title. As a matter of fact, despite what you may have been told, you don't need an extensive knowledge of HTML to have successful, good-looking auctions on eBay.
Choosing or not choosing le mot juste can mean the difference between having potential bidders merely see your auction and having an all-out bidding war on your hands.