Create Comments with Acrobat CS5 Sticky Note Tool
You can easily add electronic sticky notes to Adobe Acrobat Creative Suite 5 PDF files by using the Comment & Markup toolbar, which you can access by clicking the Comment option in the Tasks toolbar. You can then choose Show the Comment & Markup Tools.
You can also access the Comment & Markup toolbar by choosing View→ Toolbars→Comment & Markup.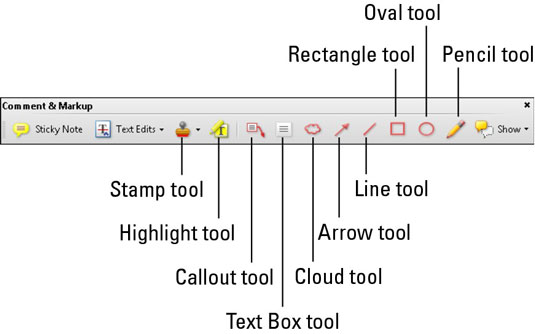 The Comment & Markup toolbar in Acrobat Creative Suite 5.
You can use the Sticky Note tool in Acrobat to add electronic sticky notes to your PDF files. To get started, click the location where you want the note to appear within a PDF document. An icon, representing the note, appears, along with a window where you can enter text. After entering text in the sticky note window, close the window so that the document isn't hidden beneath it.
You can change the icon and the color used to represent the note by right- clicking (Windows) or Control-clicking (Mac) the note and choosing Properties from the contextual menu. In the Properties dialog box that appears, make the changes to the note icon or the color and then click Close.