Choose the Best Auction Type for Your eBay Merchandise
eBay offers several auction types. Most of the time, you'll run traditional auctions, but other auctions — best offer, multiple-item (Dutch), private, and restricted access — have their place, too. After you've been selling on eBay for a while, you may find that one of the other types of auctions better suits your needs.
Traditional auctions
Traditional auctions are the bread and butter of eBay. You can run a traditional auction for 1, 3, 5, 7, or 10 days, and when the auction closes, the highest bidder wins. You begin the auction with an opening bid, and bidders will bid up your opening price into a (hopefully) healthy profit for you.
Best Offer
If you have a fixed-price listing, you can insert a button under your sales price that will encourage buyers to Make an Offer on your item. This is probably one of the oldest sales methods around. (In some countries, it's an insult to buy something at the posted price; haggling is part of their retail culture.)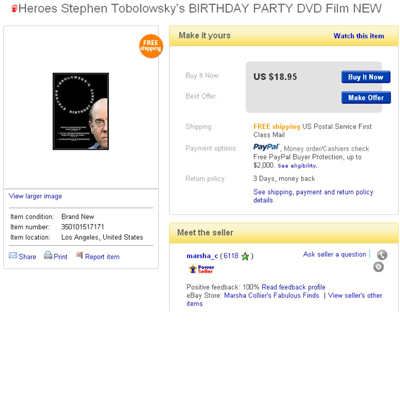 So, if you love the thrill of haggling, you can insert the Make an Offer button in your listings at no extra charge. When someone makes an offer on one of your items, eBay sends you an e-mail asking that you reply regarding whether the proposed price is acceptable to you.
The multiple-item (Dutch) auction is useful if you have multiple identical items and you want to sell them as expeditiously as possible.
In this auction type, which can run for 1, 3, 5, 7, or 10 days, you list as many items as you'd like and bidders can bid on as many items as they'd like. The final item price is set by the lowest successful bid at the time the auction closes.
Restricted access auctions
eBay won't allow certain items to be sold in nonrestricted categories, so you must list them in the Mature Audiences area of eBay. eBay makes it easy for the user to find or avoid these types of auctions by making this area accessible only after the user enters a password and agrees to the terms and conditions of the area.
You must agree to the legalities to enter the Mature Audiences category.
Items in the adults-only area are not openly accessible through the regular eBay title search, nor are they listed in Newly Listed Items. Anyone who participates in adults-only auctions on eBay, whether as a bidder or a seller, must have a credit card on file on eBay for verification.
Private auctions work well for the buyers who avail themselves of the psychics, card readers, and fortune teller's listings on eBay and don't want their friends to think they are… well, you know. Sometimes it's just best to keep things quiet.
eBay private auctions don't place bidders' names on the auction listing. No one needs to know just how much you choose to pay for something. As a seller, you have the option (at no extra charge) of listing your auction as a private auction.
The private auction is a useful tool for sellers who are selling bulk lots to other sellers. It maintains the privacy of the bidders, and customers can't do a bidder search to find out what sellers are paying for the loot they plan to resell on eBay.