Buying an eBay Item without an Auction
eBay allows sellers to handle outright sales in the following ways: using the Buy It Now feature in an eBay auction; in a fixed-price sale; and in one of eBay's stores.
Buy It Now
You've probably already noticed the Buy It Now price sometimes located below the minimum or starting bid amount. That little indicator means that if you want the item badly enough, and the Buy It Now price is within your budget, you can end the auction right then and there by buying the item for the stated amount.
If you decide that you want to buy, scroll down to the bottom of the page and click the Buy It Now button. An eBay confirmation page appears. If you still want to make the purchase, you can click Confirm to tell eBay that you're willing to pay the purchase price. Then all you have to do is go through the checkout process and pay the seller.
Fixed-price sales
eBay also offers items for sale without the option to bid. These fixed-price listings may be for a single item or for multiple items. When multiple items are offered, you can buy as many as you like.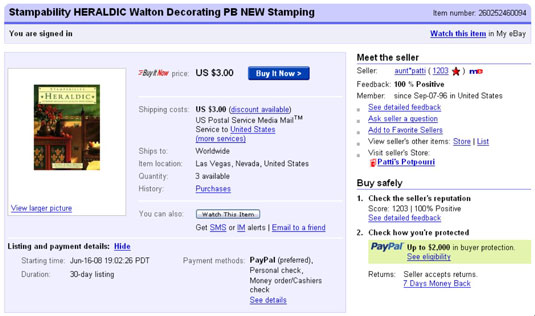 Buy one or up to three of this item in one transaction.
Shopping eBay stores
eBay stores are the secret weapon for knowledgeable eBay shoppers. You can consistently find great deals, help small businesses make it against the behemoths, and search for merchandise more easily.
Before you buy any item from a listing on eBay, check to see whether the seller has the small, red stores icon next to his or her user ID. If so, be sure to click the icon before you bid on the item. Most sellers run auctions for items to draw people into their eBay stores, where you may be able to find more interesting merchandise you can buy, have the seller put it in the same crate along with your auction item, and save on shipping.
You can get to the eBay Stores hub from the eBay home page by clicking the eBay Stores link under the search box in the top bar.
At the center of the eBay Stores hub page, you see a small group of store logos.
Next to the store logos on the eBay Stores hub page is a list of clickable links to stores. These are Popular eBay Stores. You can find more stores, including the smallest ones — the cottage-industry sellers — by browsing through the categories on the left side of the page.