Buy Merchandise to Resell on eBay from Wholesale Trade Shows
If you have a state resale license to buy wholesale, then a great way to find potential eBay merchandise is through the thousands of wholesale trade shows that go on across the country each year. Trade shows are commonly held in convention centers, hotels, and local merchandise marts.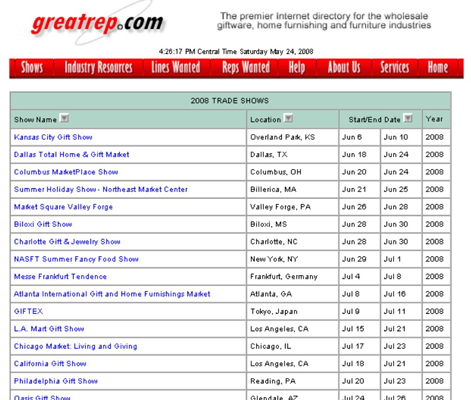 Check the greatrep.com Web site for an updated trade show schedule.
A super source for finding gift shows is greatrep.com. Here, you find a list of all the major gift shows — with clickable links to contact information for the show coordinators.
These trade shows are gargantuan bourses of hundreds of wholesale vendors all lined up and ready to take your orders. The vendors have samples of the merchandise in the lines they carry and are delighted to answer all your questions about their products, credit applications, and minimum orders. These shows are designed to move products to retailers like you!
Note that professional trade shows and marts are not open to the general public, and they want to keep it that way. When you attend these venues, they want to be sure that you represent a business. Following is a list of items that you may be asked to provide, as proof that you are a retailer:
Business cards

A copy of your current resale-tax certificate or state tax permit

Current occupational or business tax license

Proof of a business checking account or a letter of credit from your bank (if you're applying for credit)

Financial statement
Be sure to check with the organization sponsoring the trade show or mart before attending so that you'll have everything you need. Don't let this list scare you — wholesale marts are fun, and the organizers and vendors will do everything they can to help you make your retailing venture a success!
Few trade shows are more exciting than the Consumer Electronics Show (CES), sponsored by the Consumer Electronics Association. If you buy breakthrough technologies to sell online, this show is a must! You'll find the latest in everything high-tech, including digital imaging, electronic gaming, home electronics, car audio, home theater, and satellite systems. You'll see what's new — but more importantly, you'll see what will be passé in a hurry — great merchandise to sell (in a timely way, of course) on eBay!
CES draws more than 100,000 buyers each year, and the vendors are there to sell their goods to you. Visit the CES Web site to get an idea of the excitement that the show generates.