Buy Merchandise to Resell on eBay from Online Wholesalers
If you have a state resale license to buy wholesale, then a great way to find potential eBay merchandise is through online wholesalers. Following are a few sources that have some unusual merchandise.
Liquidation.com
If you like auctions, check out Liquidation.com. This is a massive all-auction Web site that has incredible deals on all types of merchandise. One of the great features about this site is that most individual auctions provide a link to the manifest — a list of every piece of merchandise in the lot. If you click the View Manifest link at the top of the auction page, you see a piece-by-piece list of the items included in the lot you're bidding on.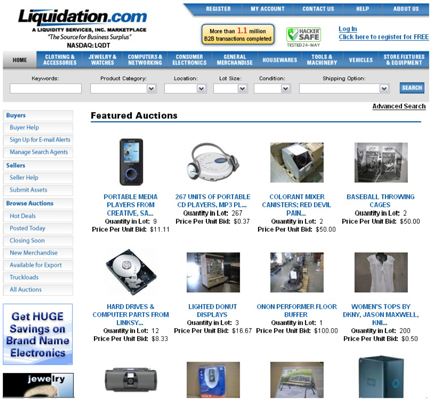 The Liquidation.com Web site.
It's best to buy from vendors closer to your geographic area because after you add the shipping fee, you might be paying too much for your lot. Liquidation.com has a shipping calculator to help you know ahead of time how much your shipping might be.
Oriental Trading Company
The Oriental Trading Company has been in business for a long time. This site offers everything from crafts to costumes to party goods — and all priced perfectly for resale on eBay. Use your practiced eye (and completed search) to ferret out the unique items that will sell.
Big Lots Wholesale
If you're familiar with the Big Lots stores scattered around the country, you have an idea of what you can buy there. A quick click to their Web site shows you that they are loaded with great deals on everything from health and beauty items to toys to lawn and garden tools. A seller's tax ID number is required to get pricing on this site.