Business Planning Considerations: Know Your Capabilities
As you write your business plan, don't be afraid to toot your own horn by announcing important company strengths. After all, these strengths provide evidence that you have what it takes to succeed in your field. At the same time, acknowledge deficiencies by detailing your strategy for turning those company weaknesses around.
The figure shows how the owners of the Soup's On catering company completed the grid. On the plus side, the caterers gave themselves excellent rankings in the crucial areas of operations and distribution and delivery. And they rated their customer service as good — an adequate position upon which they can build. This grid shows you, at a glance, how your business strengths and weaknesses align with the capabilities most necessary to your success.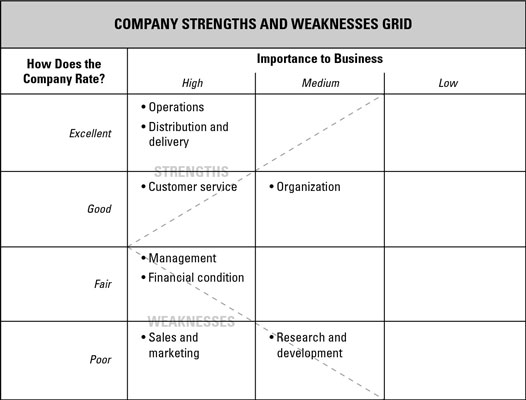 But then red flags really begin to flutter. The caterers ranked the areas of management and financial condition as highly important but gave their business only fair grades in those areas. Yikes. Plus, they found more trouble in the area of marketing.
Their plan called for expansion into new geographic areas, but current sales come almost entirely from repeat business and word of mouth. In all honesty, they had to rate their marketing capability as poor. They also decided that they were no better at Research and Development. No one on staff had expertise to match the aspirations of their Internet strategy.
Thanks to their findings, the caterers called a timeout to boost capabilities in key areas before proceeding with their expansion plans.
As you study your strengths and weaknesses grid, keep the following thoughts in mind:
Capabilities listed in the top left of the grid are essential capabilities and areas where you possess strong expertise — a great combination.

Capabilities at the bottom left of the grid are essential to your success, but your company is weak in these areas and, therefore, vulnerable until you beef up strengths.

Capabilities in the middle row of the grid are of medium importance to your success. The capabilities listed in the right-hand column are of minor importance. Any poor rating is cause for concern, but when your business is weak in an area of minor importance, the deficiency is of lesser concern — at least for now.
After you know where your business stands on key capabilities — and which capabilities matter most to your business success — you're in position to build on strengths and work on weaknesses.
One more word of advice: Because your company's strengths and weaknesses are likely to change over time, return to this grid on a regular basis to take a fresh look at where you stand.