Business Planning Considerations: Industry Conditions and Forecasts
As you write your business plan, you need to have a clear sense of the conditions and forecasts your industry faces, and to assess how well your business is configured to adapt and succeed in the environment of today and tomorrow.
Understanding the larger forces at work in your industry is a crucial part of business planning:
What are the immediate and long-term growth, product, and pricing trends in your industry?

Is market demand for your industry's offerings growing, shrinking, or holding steady?

Is it easy or difficult for new competitors to enter your industry?

How fast are technologies, regulations, or other fundamentals of your industry changing?

How well has your business adapted to the changes your industry has undergone, and how well are you prepared to adapt to the changes you see on the horizon?
Answers to questions like these are key to creating a successful business plan. By compiling a good overview of your industry, you gain a better sense of how and where your business fits in — insights that will help you sidestep trouble and chart a better course.
Use a questionnaire like the one in the figure to summarize what you know about your industry and, even more important, what you still need to find out.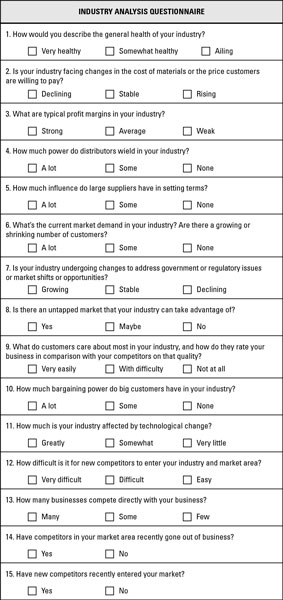 What you don't know can hurt your business, so instead of leaving questions unanswered, take the time to do some research and to uncover the facts. For example, if a few suppliers control most of your industry's material costs, you can make sound decisions based on that knowledge — or you can overlook that fact and have it come back to haunt you later.
After you complete the questionnaire, look over your answers and single out areas that are most apt to influence your future:
How serious a competitive threat do you face?

Who really drives your industry: customers, distributors, or suppliers?

Will you be able to ride the rising tide of an expanding industry, or will you have to find ways to succeed in spite of a general industry slowdown?
Any one of the forces, trends, or issues you identify just may be the one that holds the key to your success.