Business Planning Considerations: How Will the Company Grow?
Does your business plan include how you intend to grow your company? Before you answer that question, review your goals and objectives. Chances are good that they lay the groundwork for growing your business — by reaching more customers, expanding your product line or services, or entering new markets.
Growing your business requires resources. The form in the first figure lists resources you may need to develop your growth strategy. Use this form to check off the needs you foresee.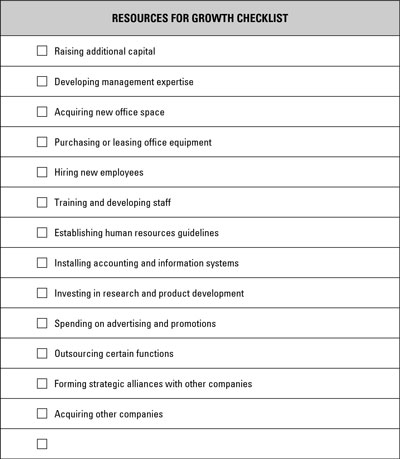 The second figure presents questions that guide your thinking as you plan for growth. The results of your SWOT analysis may prompt your answers.
In addition to deciding how you want to grow, define how much you want to grow. Answers vary widely. One independent contractor may want to grow her business just enough to stay busy and keep the bank account healthy — but not so much that she needs to hire employees. In contrast, another entrepreneur may want to grow big — and fast — so that he can move away from doing the work himself and concentrate on expanding his business.
Include your growth plans in the Executive Summary of your written business plan and also in the Company Strategy section, the Financial Review, and in your Action Plans.