Business Planning Considerations: Entry Barriers and Obstacles
An important step in planning and assessing your business environment is to understand what kinds of obstacles — known as entry barriers — challenge new contenders in your industry. If the barriers are low, almost anyone can join the fray and compete for business. If the walls are high, entry is harder and fewer competitors make the plunge.
Consider the following examples:
Suppose that you're starting a printing business. One entry barrier is the capital cost associated with acquiring production equipment. To overcome the barrier, you may decide to lease equipment or outsource a portion of your production until you get up to full speed.

If you're planning a clothing shop that will have to compete with chain stores, your entry barrier is the competitive advantage of large retailers whose pricing reflects a built-in economy of scale. Simply put, large retailers can buy inventory at a lower cost because they buy so much of it at a time. To overcome the barrier, you probably need to compete on attributes other than price: the quality of your inventory, for example, or your special services or unique fashions.

If you're opening a hair salon in a town that already has a number of successful beauty shops, your biggest entry barrier may be customer loyalty to existing stylists. To prevail, give customers a reason to change: an introductory bring-a-friend incentive or on-site day-care service.
The figure presents typical entry barriers that await new competitors in a variety of industries. Check the ones that apply to your industry and marketplace. Use the space at the end of the form to add barriers unique to your business situation.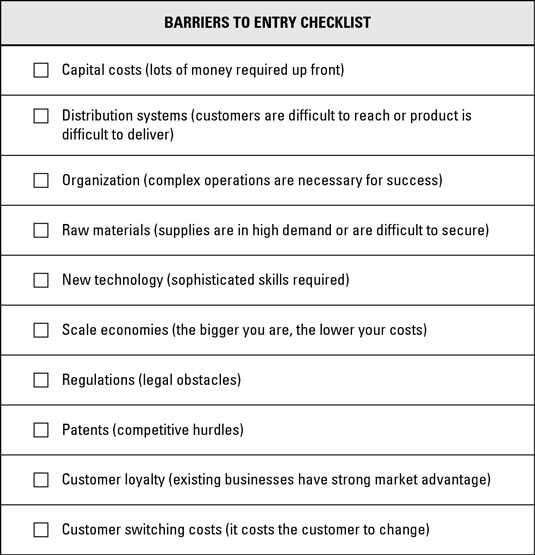 On a scale of 1 to 10, with 1 being the most significant impediment to success, rank the entry barriers that new competitors in your industry encounter. The top three barriers on your list represent the biggest hurdles a new business faces when entering your industry. If you're launching a business, acknowledge these barriers when you write your business plan and detail how you intend to overcome the obstacles they represent.