Business Planning Considerations: Assess Strengths and Weaknesses
Companies with visionary leaders are moving into the passing lane by adapting their business plans to steer clear of trouble and seize the opportunities they see on the horizon. In business, strengths and weaknesses come in the form of eight key capabilities that make up the essential elements of success:
Research and development (R&D): Your ability to design and develop new products, services, or technologies

Operations: Having the resources and systems necessary to produce the highest-quality products or services in the most efficient ways possible

Marketing: How well you get your products or services into the marketplace, onto customer radar screens, and through the sales process

Distribution and delivery: The ability to get your products into customers' hands

Customer service: Everything you do to create a loyal clientele that supports you with purchases, repeat purchases, and praise

Management and leadership: How you provide direction and a vision for your company

Organization: The procedures, people, and business structures that enable you to make the most of your resources and business opportunity

Financial condition: The financial health of your business
Not all capabilities are equally important to every business. For example, a state-of-the-art distribution and delivery system may be essential to the success of one firm but not particularly important to another. Research and Development may be crucial for a computer manufacturer, but of little impact to a massage business. And, to a one-person business, management capabilities — at least as they apply to staffing issues — may be largely irrelevant.
Don't jump to conclusions, however. Chances are good that, in some way, shape, or form, each of the key capabilities contributes in some way to your company's ability to compete and succeed. You just may need to be a bit flexible in the way you think about how each category impacts your company.
To rank the importance of each capability to your company's success, grade yourself using a form like the one shown in the figure. Be frank, circling Excellent in each area where you know that your business excels, and giving lower ratings where you think your business falls short. The example shows how the owners of Soup's On, a gourmet catering company with plans to expand from a single outlet into a small chain, graded the company.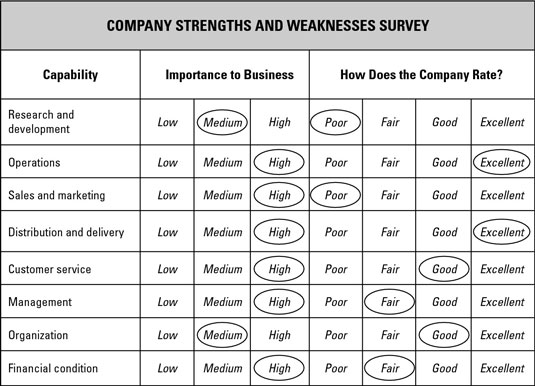 Here's a little background about what went into their thinking. Research and Development may not seem important to the success of a catering firm, but the Soup's On expansion strategy called for a website where customers could view the current selection of dishes, create personalized menus, place orders, and schedule catered events.
To support this Internet strategy, the owners knew that they needed to beef up their web presence, so they gave R&D a ranking of medium importance. They gave operational ability a ranking of high importance after deciding that their ability to accurately fill orders and prepare meals was fundamental to their success.
They also gave a high ranking to distribution and delivery, which they defined as their ability to transport food to events and to supervise setup, serving, and cleanup.