Business Marketing Product Strategy and Value Proposition
As part of your marketing plan, you need a product strategy. You may be planning changes to the products you sell. The most obvious change is to introduce new products, but you may also plan to communicate different uses, benefits, or distinctions for existing products, shift marketing emphasis from one product in your line to another, or rename or relabel products to make them more relevant in the current marketplace.
You might add accessories or services to boost appeal, bundle products into new package options, or target particular products to unique market segments. The aim is to heighten product interest, selection, and purchase by using these or other approaches.
In other parts of your business plan, you'll present your product development and production plans. In the marketing section, you'll want to summarize how you plan to use your products to achieve marketing success. Use the questions in the figure as you set your product strategy.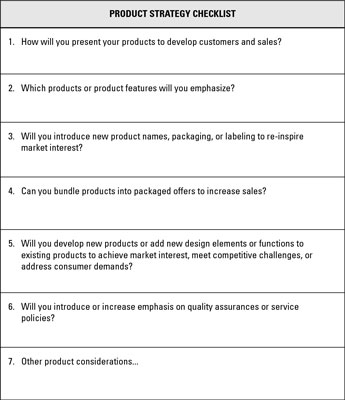 As part of your product strategy, be sure to spend time determining how your product decisions deliver clear value proposition to your customers. When making purchase decisions, customers weigh the price being asked against their impressions of the quality, benefits, convenience, reliability, expertise, and support they'll receive from the product or service they're purchasing.
To develop the value proposition you're promising customers, describe the results customers can depend on when they buy from your business. By selecting your product, does your customer increase revenue, save time, cut costs, improve efficiency, receive unrivaled quality, enjoy tremendous convenience, have the peace of mind of unparalleled expertise, guarantees, or product support, or other compelling values that make customers believe that what they're getting is worth every penny of what they're paying?
Include a summary of your value proposition in the marketing strategy section of your business plan.