Blood Sugar and the Glycemic Index
What makes a food low- or high-glycemic? First off, only foods that contain carbohydrates can be considered low-, medium-, or high-glycemic. Foods such as meats, poultry, fish, and fats (think oil and butter), don't contain carbohydrates.
The glycemic level of a food measures how fast that food is likely to raise your blood sugar. A food that raises your blood sugar quickly is considered high-glycemic, and a food that raises it slowly is considered low-glycemic. Foods that fall somewhere in the middle have (you guessed it) a medium glycemic level.
Because the glycemic index deals with your blood sugar's reaction to various foods, determining a particular food's glycemic index calls for the help of human test subjects. First, researchers feed 50 grams of available carbohydrates (that's total carbohydrate minus fiber) to ten or more volunteers to test how the food raises blood sugar levels at different intervals over a two-hour period after it's consumed. They then plot these changes in blood sugar on a graph and compare the volunteers' responses to the test carbohydrate to their responses to the same amount of pure sugar or white bread. The average blood sugar response of all ten volunteers compared to their response to sugar or white bread determines the glycemic index of that food item.
The graph illustrates the quick rise and the ensuing drop of blood sugar after a subject ingests pure sugar: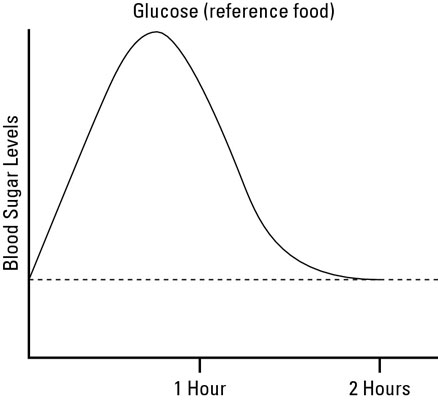 Blood sugar spikes about 45 minutes after consuming sugar then drops rapidly.
A high-glycemic food causes blood sugar to rise not quite as high as pure sugar about 45 minutes after consumption, with a similar, fairly quick drop afterward.
The blood-sugar curve looks a bit different after eating a low-glycemic food. The maximum spike is much lower and also occurs much later than with sugar or high-glycemic foods — around an hour after consumption with a slow drop back to the base line. This type of blood sugar response results in lower levels of insulin being released and better control of food cravings, hunger, and mood.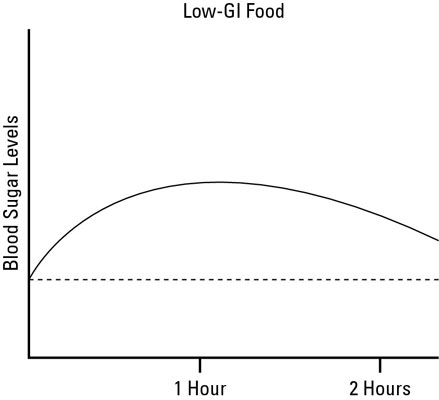 Blood sugar spikes about 60 minutes after you eat a low-glycemic food.