Basics of the Camera App on an Android Phone
To use your Android phone as a camera, you must do two things. First, hold the phone away from your face. That's because the phone has no viewfinder. Nope — the image preview shows up on the touchscreen.
The second thing you need to do is run the Camera app, which is how the camera is controlled on Android phones. (Your phone may use a different name, though Camera is the most common.) You'll find the Camera app on the Home screen or, like every other app on the phone, on the App menu.
The screen you see when you start the Camera app varies, depending on your phone's make and model. Even then, the Camera app gets updated, so it may not look the same today as it will months hence. The following figure is just one example of how your camera screen may appear.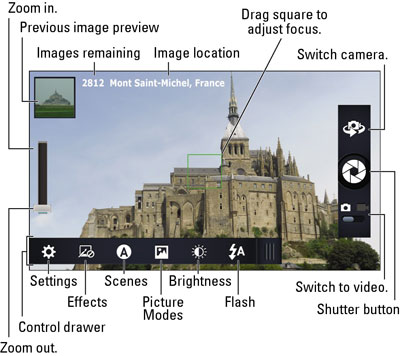 Here are some things to look for on your phone's Camera app screen:
Shutter button: Touch this button to snap the picture. Some phones feature a physical Camera button, which also can be pressed to take the picture.

*Switch camera: For phones with front and rear cameras, touching this button switches between cameras. How can you tell which is which? When you see yourself, the front-facing camera is active.

Switch to Video: The Camera app is also used to record videos. This button switches between Still and Video modes.

Zoom controls: You may find the zoom controls on the screen as a slider or as + (zoom in) and – (zoom out) buttons. On some phones, pressing the Volume Up and Volume Down buttons zooms in and out.

Focus square: The more sophisticated phone cameras feature a graphic square that you can drag around the touchscreen. It's the focus square that's used to change the camera's focus.

Previous image: You can touch the tiny preview of the previous still image (or video) to review the image in Full Screen mode, share the image, delete it, or do a number of thrilling things.

Control drawer and related options: The various settings and controls for the Camera app are often found in a control drawer or in a slide-out or pop-up gizmo.

Random information: Text on the screen can tell you the image resolution, the number of images you can store on the phone, location information, camera settings, and other tidbits.
Your phone may not have all these items, and it may have more.