Basics of the Alarm Clock on an Android Phone
Your Android phone keeps constant and accurate track of the time, which is displayed at the top of the Home screen and also when you first wake up the phone. When you'd rather have the phone wake you up, you can take advantage of the Clock app, which might also be called Alarm or Alarm & Timer or a similar name.
The Clock app features a basic display, which shows the time and temperature and gives you access to music or perhaps a slideshow.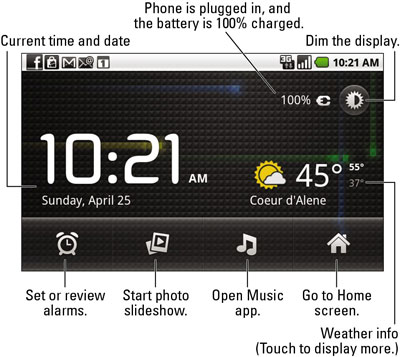 To set an alarm, follow these steps:
Touch the Alarm button in the Clock app.

If your phone's Clock app lacks the Alarm button, press the Menu soft button.

Choose Add Alarm.

Describe the alarm.

Give the alarm a name, choose a time, set a sound, determine whether the phone vibrates, and set repeat options.

Touch the Done button to create the alarm.

The alarm appears in a list on the main Alarm Clock screen, along with any other available alarms.
Alarms must be set, or else they won't trigger. To set an alarm, touch it in the Alarms list. (Place a check mark in the gray box). When the alarm is set, the Alarm notification icon might appear in the status area atop the touchscreen. The icon is your clue that an alarm is set and ready to trigger.
For a larger time display, you can add the Clock widget to the Home screen.

Turning off an alarm doesn't delete the alarm.

To delete an alarm, long-press it from the list and choose the Delete Alarm command, or touch the red X button to remove it. Touch the OK button to confirm.

The alarm doesn't work when you turn off the phone. The alarm goes off, however, when the phone is sleeping.