Basics of 6th Chords and Blues Shuffles on the Guitar
On the guitar, a 6th chord is some combination of 1-3-5-6. If a 6th extends beyond the 7th, it's still called a 6th unless a 7th is also present in the chord, in which case it's called a major 13th.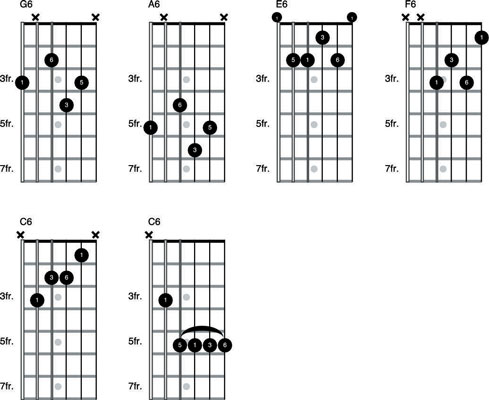 Credit: Illustration courtesy of Desi Serna
The following songs feature 6th chords:
"Bad Moon Rising" by Creedence Clearwater Revival
"Brass in Pocket" by The Pretenders
"Laughing" by The Guess Who
"Lenny" by Stevie Ray Vaughan
"Lie in Our Graves" by Dave Matthews Band
By far the most common use of 6ths on guitar is when guitarists play the so-called "blues shuffle" or "boogie-woogie" that accompanies many rock 'n' roll, rockabilly, and blues songs. In a blues shuffle, a root and 5th are alternated with a root and 6th. Here, the progression is A-D-E-A, I-IV-V-I in A major. On these major scale degrees, 6ths occur naturally.

Credit: Illustration courtesy of Desi Serna
You can see an example at Blues Shuffle with 6ths.
The following songs are all good examples of using a blues shuffle with 6ths:
"Glory Days" by Bruce Springsteen
"Jet Airliner" by Steve Miller Band
"Johnny B. Goode" by Chuck Berry
"Keep Your Hands to Yourself" by Georgia Satellites
"Love Struck Baby" by Stevie Ray Vaughan
"Life By the Drop" by Stevie Ray Vaughan
"Red House" by Jimi Hendrix (bass)
"Rocky Mountain Way" by Joe Walsh
"Taking Care of Business" by Bachman-Turner Overdrive
"Truckin'" by Grateful Dead