Assign Staff Responsibilities According to the Business Plan
Planning a business means structuring your organization and then assigning duties and responsibilities to your key people. Take time to review your assignments against your business plan — at least for your top management team — even if you've already made many or most of those assignments already.
Be sure these assignments are closely aligned with your major goals and objectives, because if the work of your key employees isn't directly tied to your company's goals, those goals won't get accomplished.
The figure shows how a secretarial-services company matched the duties and responsibilities assigned to key employees with the company's business goals and objectives. You can use an assignment chart like this one to make sure management duties and responsibilities align with major business goals and objectives.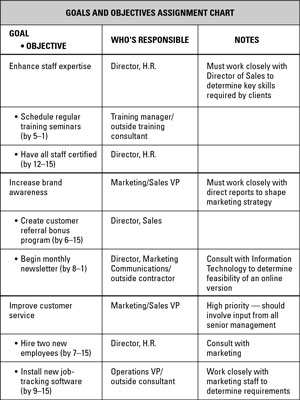 By assigning responsibility for major goals and objectives, the company significantly improves the odds that its action plan will be carried out. What's more, the assignment chart confirms that senior managers will work closely together to accomplish the plan — supporting the company's decision to adopt a relatively flat, flexible management structure.
As a bonus, the assignment chart provides guidelines the company can follow as it writes detailed job descriptions for key managers.