Arteries and Lymphatics of the Pelvis
The pelvis is home to the reproductive organs, which differ depending on gender. A complex system of blood vessels and arteries circulate blood throughout the region. The area also houses lymph nodes that facilitate the drainage of lymph.
Pelvic arteries
The abdominal aorta branches into the right and left common iliac arteries at the level of the 4th lumbar vertebra. The common iliac arteries descend to the pelvic brim, where they divide into the external and internal iliac arteries.
The external iliac arteries leave the abdominal cavity to supply the lower extremities. They have two branches, the inferior epigastric and deep circumflex iliac arteries.
The internal iliac artery enters the pelvis to supply blood to pelvic organs, gluteal muscles, and the perineum. It has many branches that stem from its two divisions (anterior and posterior):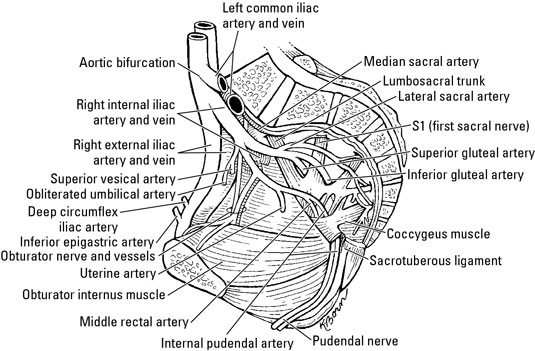 The posterior division of the internal iliac artery supplies blood to the pelvic wall and the gluteal region:
The remaining arteries also supply blood to various organs of the pelvis:
The principal veins that return blood from the pelvis include the external and internal iliac veins and the median sacral veins. They accompany the arteries of the same names.
Lymphatics in the pelvis
Several groups of lymph nodes are located along the vessels in the pelvic region:
The lymph nodes of the pelvis are interconnected quite extensively, which means some of the nodes can be removed without disturbing lymphatic drainage. However, it also means cancerous cells can easily spread to any pelvic or abdominal organs.