Arranging Lights to Shoot Photos of Food
Placing lights in just the right spots is a key ingredient to a successful image in food photography. If you arrange two duplicate lights on either side of your subject, exactly the same distance away, you may get a flat and dull look in your image with no subtle highlights or shadows. Not so appetizing!
Knowing where to place lights for your shoot can really benefit the look and quality of your photos. Check out the following options:
Key light: A key light is the main or principal light that provides the majority of light for your setup. Try placing the key light in front and to the side, to make sure you get some good reflections in your highlights.

Using only a key light produces an image with intense light on one side and dark shadow on the other, which is a very dramatic look. Although the look may be great for a portrait of Iggy Pop, it's rarely used in food photography because it's just a wee bit too contrasty.

Fill light: A fill light is a light that's either lower wattage or placed farther away from the subject. The purpose of a fill light is to fill in and shape the light in a food subject. It's a secondary light that decreases and controls the contrast when shooting.

Back light: A back light shoots across the very back of a setup. The back light provides a little smidge of light that allows a slight distinction between the subject and the background.
The image in the following figure was taken with one key light on the left of the quiche and a reflector just a few inches away on the right. Some nice, subtle shadows show on the right, giving the image good depth and substance. But overall, the image isn't too contrasty. A nice balance exists between the areas of light and shadow.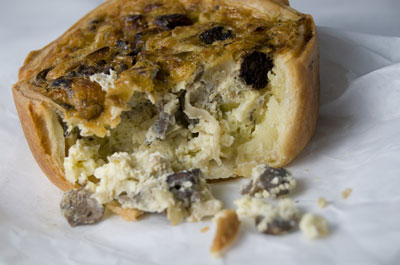 Credit: Focal length: 55mm, Shutter speed: 1/50 sec., Aperture: f/5.6, ISO value: 250
A key light on the left and a reflector on the right give this photo a good balance of light.
The setup shown in the following figure is a pretty common placement for lighting. The key light on the left is closer in and stronger, and the fill light on the right is farther back and more subtle.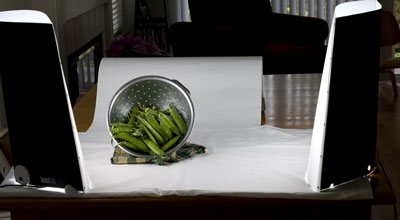 This photo uses a key light set closer in and a fill light farther back.
The image in the following figure was taken with a small backlight shooting across the back of the scene. This backlight creates a slight separation of the subject and its background.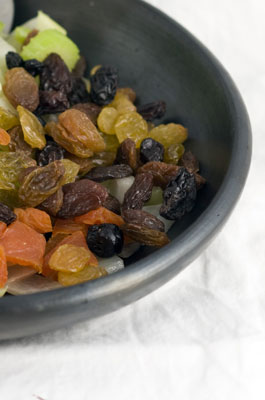 Credit: Focal length: 85mm, Shutter speed: 1/100 sec., Aperture: f/5.0, ISO value: 200
Adding a subtle backlight provides slight separation of the subject and background.