Cheat Sheet
Android Phones For Dummies
To help you better understand your Android phone, consider this handy, electronic cheat sheet. You still have a few years before the evil robots take over, so take a few minutes to glean some useful and handy Android advice.
Unlock Your Android Phone
To unlock your phone, slide a bar or button across the lock screen. Usually, you slide the lock from left to right. Some phones may require you to slide a bar down, as illustrated here: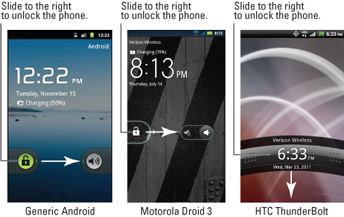 The Android Phone Home Screen
Your Android phone may sport a different skin or appearance than the generic Home screen shown here. Note that the items shown may look different on your Android phone's Home screen.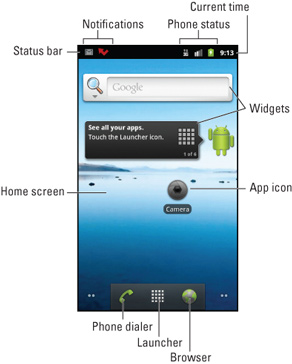 Android Soft Buttons
Most Android phones feature soft buttons, found below the touchscreen. There can be up to four of them, though they may not all sport the generic icons illustrated here: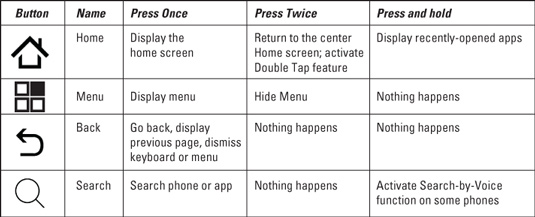 Android Touchscreen Operations
You can perform several basic actions on your Android phone's touchscreen. It's just a matter of teaching your fingers to do what you want them to. Here are the basic things you do to control your Android phone from the touchscreen:
| Action | How to Do It |
| --- | --- |
| Touch | Touch the screen. |
| Double-tap | Touch the screen twice in the same location. |
| Long Press | Touch a spot on the screen and keep your finger down. |
| Swipe | Touch a spot on the screen and drag your finger left, right, up, or down. |
| Pinch | Use two fingers to touch the screen and bring both fingers together as you continue to touch the screen. |
| Spread | Use two fingers close together and then spread them apart, touching the screen as you spread them. |
| Rotate | Twist two fingers around a central point to rotate an image, map, or other object on the screen. |
Android Phone Tricks to Remember
An Android phone is a handy tool, but it can easily become a time sink. Here is an assortment of handy time-saving tricks to keep in mind to boost your productivity with (or your hopeless addiction to) your Android phone.
Dictation! You can speak into the phone as an effective and quick alternative to using the onscreen keyboard.

Press and hold a key on the onscreen keyboard to confirm that your stubby fingers have selected the right character.

Spread your fingers to zoom into a web page, where it's much easier to click on links.

If your phone features a pointing device (trackball or arrows on a physical keyboard), you can use it to hop between links on a web page.

Quickly put the phone into vibration mode by pressing the Down Volume button until the phone jiggles.

When you're on the phone, press the power button to lock the phone and turn off the touchscreen.

When downloading updates and new apps, or for faster web browsing — and especially to avoid data overcharges — activate the phone WiFi.

Use the Search soft button to look for things on the phone, on the Internet, or in a specific app.
Android Phone Help and Support
Ever new technology can catch a bug or two now and then, and an Android phone is no exception. If you ever happen to find yourself in serious phone trouble, here is a smattering of trusted places to check out for help with your Android phone.
Cellular Providers
611 (AT&T, T-Mobile, Verizon)

*2 from your Sprint phone
Phone Manufacturers