Save a Movie or Slide Show to a DVD with Windows DVD Maker
Save a Movie or Slide Show to a DVD with Windows DVD Maker
With Windows Vista, you can save a movie or slide show to a DVD with Windows DVD Maker. Saving a movie or slide show to a DVD in Windows XP required a third-party DVD-burning program.
Note: If you want to copy or back up files to a blank DVD, don't use DVD Maker. Instead, copy the files to the DVD the same way you copy files to a CD or any folder.
Follow these steps to create a DVD movie or slide show for playing back on a DVD player and watching on TV: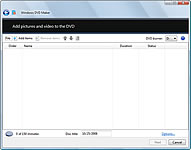 1

Load Windows DVD Maker, if necessary.

Windows Movie Maker loads Windows DVD Maker automatically, leaving you at Step 3. But if you're creating a slide show or burning an already completed video, load Windows DVD Maker yourself by choosing DVD Maker from the Start menu's All Programs area.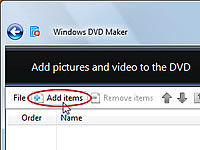 2

Click Add Items, add your photos or videos, and click Next.

Click the Add Items button and choose the movie file or photos you'd like to add to your DVD. If you're creating a slide show, here's your chance to arrange the photos' display order by dragging and dropping them in place.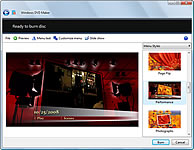 3

Customize the opening menu, if desired.

Spend some time here to craft your DVD's opening menu — the screen you watch until the last person is settled around the TV set and you can push Play. DVD Maker offers these menu options: Menu Text, Customize Menu, Slide Show, and Menus Styles.