How to Share an Internet Connection in Windows 7
How to Share an Internet Connection in Windows 7
Windows 7 makes it easy for you to get connected to the Internet and to share an Internet connection with other computers in your network. You can use the Windows Internet Connection Sharing feature to let one or more computers share in your Internet connection.
The Internet has become integral to our daily lives. It's how people stay in touch, transfer files, share images and music, shop for goods and services, and research everything from aardvarks to zebras. Using the Internet Connection Sharing feature can ensure that everyone in your home has an opportunity to tap into the Web.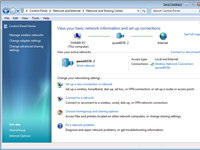 1

Choose Start→Control Panel→Network and Internet. Click the Network and Sharing Center link.

The Network and Sharing Center opens.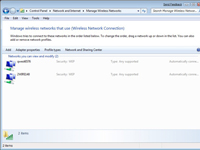 2

In the resulting Network and Sharing Center window, click the Manage Wireless Network's link.

The window that appears lets you "Manage Wireless Networks That Use (Wireless Network Connect)."
3

Click a connection and then click the Adapter Properties link.

The Connection Properties dialog box appears.
5

Select the Allow Other Network Users to Connect through This Computer's Internet Connection check box.

You might also be able to select the Allow Other Network Users to Control or Disable the Shared Internet Connection check box (Optional). This setting lets other people on your network control the shared Internet connection by enabling or disabling it.
6

Click OK and then close the Manage Wireless Networks window to save the shared connection settings.

Before they can start using your shared connection, users on your network need to configure their TCP/IP settings so that they get an IP connection automatically.