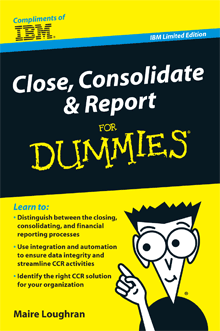 Close, Consolidate & Report For Dummies, IBM Limited Edition
Welcome to Close, Consolidate & Report For Dummies, IBM Limited Edition. Use this book to understand why integrating and unifying your closing, consolidating, and reporting process is critical. Learn about re-engineering your point solution approach to these activities by investing in integrated solutions. Achieve automation and enhance your ability to manage internal controls, reduce risks, and efficiently create consolidated financial statements and regulatory reports (including XBRL).
With this book, you find out how a unified CCR process gives leaders timely and accurate insights to make smarter decisions. You also discover features of the ideal CCR solution and learn what to look for in the selection process. And, you come to understand the close/consolidate/report process and how integrated CCR solutions enhance internal controls and provide better insight into business performance. You also find out about optimizing financial and regulatory reporting by providing business leaders and stakeholders with a better understanding of business performance through meaningful financial data and disclosure.

About IBM Business Analytics
IBM Business Analytics software delivers actionable insights decision-makers need to achieve better business performance. IBM offers a comprehensive, unified portfolio of business intelligence, predictive and advanced analytics, financial performance and strategy management, governance, risk and compliance and analytic applications. With IBM software, companies can spot trends, patterns and anomalies, compare "what if" scenarios, predict potential threats and opportunities, identify and manage key business risks and plan, budget and forecast resources. With these deep analytic capabilities our customers around the world can better understand, anticipate and shape business outcomes.