Case Study
Client: Google UK
Solution: Connecting People Using Google For Dummies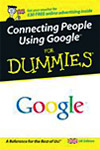 The For Dummies guide allowed Google to tap an audience and educate them in an exciting new way. The respect that our target audience has for the Dummies brand helped to ensure a successful campaign.


Head of Advertiser Acquisition Marketing, Google UK and Ireland
Objective
To promote the effectiveness of Google AdWords to the SME community, with an educational marketing tool that created a full understanding of the product.
Strategy
The For Dummies team worked closely with Google and created a clear and concise guide which included a 'money off' promotion to drive traffic to a feel trial of Google AdWords.
A 'free for every reader' promotion was implemented with The Mail on Saturday and Growing Business magazine.
In addition, a micro-site was created for a digital download of Connecting People Using Google For Dummies. Traffic was driven by working closely with Google, and a mobile text company supplied codes for access to the e-book.
Results
"The For Dummies guide allowed Google to tap an audience and educate them in an exciting new way. The respect that our target audience has for the Dummies brand helped to ensure a successful campaign." Lee Hunter / Head of Advertiser Acquisition Marketing, Google UK and Ireland